Featured Recipes
---
Plantain Pancakes – Gluten-Free, Dairy-Free, and Sugar-Free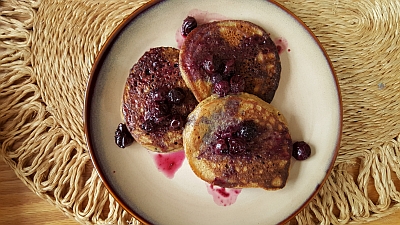 Years ago I tried eating a plantain and thought it tasted starchy and yucky so had not thought about them again until a friend asked me if I had tried plantain pancakes and said they were delicious. So she got me curious to give them another try. I looked online to see if I could find a recipe that I could use as a guide and adapt to my preferences. As I found several that looked interesting, I wrote down the basic ingredients. Since then, I've made them twice changing the recipe a bit each time. Although both were really good, I've settled on this one for future pancake making. As they are so delicious, I hope you will give them a try, you will not be disappointed!
Ingredients:
2 large green plantains (the darker the plantain, the sweeter the flavor)
4 organic eggs
1 - 2 tablespoons coconut oil, organic extra virgin
1/8 teaspoon sea salt or less
½ teaspoon baking soda
½ teaspoon cinnamon
¼ teaspoon nutmeg
¼ teaspoon ginger (optional)
2 tablespoons almond or other nut flour (optional)
extra coconut oil for frying
Directions:
Place eggs in a blender. Cut plantains into 4 quarters, cut off the peel from each quarter, slice, then add to eggs and blend until smooth. Add in oil, spices, baking soda and blend until all ingredients are incorporated and batter is smooth. Heat some oil in a cast iron pan and pour about 2 tablespoons batter into skillet for each pancake and cook until you see bubbles on top. Turn pancakes over and continue to cook about 2 minutes or until pancakes look done. You may need to add more oil to skillet between batches. Note: If you make pancakes without nut flour pancakes will be a little thinner but just as yummy so if you do not eat nuts, no fret they will be delicious either way!
Simple Berry Sauce:
For an added treat try a making sauce for your pancakes:
1 cup of organic blueberries or berries of choice
½ cup or so filtered water
¼ teaspoon ginger
---
Sweet Potato Muffins - makes 12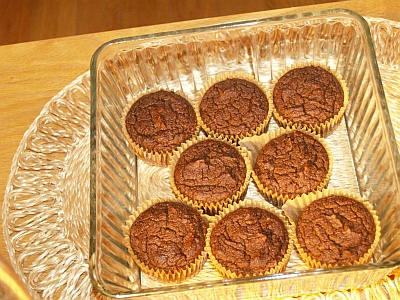 Recipe is gluten-free and vegan
Ingredients:
1 cup brown rice flour
2 teaspoons baking powder
¼ teaspoon baking soda
1 teaspoon ground ginger
½ teaspoon ground cloves
¼ teaspoon ground cinnamon
¼ teaspoon ground allspice
¼ teaspoon sea salt
1/3 cup full fat coconut milk
1 cup of cooked sweet potato
2 organic eggs
¼ cup dark molasses
Directions:
Peel, chop, and boil sweet potato until soft or bake a large potato, scoop out pulp and mash. Preheat oven to 350 degrees. In one bowl stir together flour, baking powder, baking soda, and all spices. In a separate bowl beat the eggs. Add coconut milk and squash to eggs and blend until well mixed. Add flour mixture into wet ingredients and continue to blend until well mixed. Pour batter into pans that have been lined with paper baking cups or lightly grease pan if not using baking cups. Bake 20 minutes or until done. To make sure muffins are done, insert a toothpick into muffin and if toothpick comes out clean muffins are done.
---
Gluten-Free Muffins Loaded with Pulp – Makes 6 large muffins
Ingredients:
1 cup brown rice flour
2 teaspoons baking powder
1/4 teaspoon baking soda
1/4 teaspoon ground ginger
1/4 teaspoon ground cloves
1/4 teaspoon ground cinnamon
1/4 teaspoon sea salt-to-potassium
2 organic eggs
1/3 cup applesauce
1/3 cup maple syrup
1/3 cup butter, melted
1 cup vegetable pulp – combo of carrots, kale, beets, apple
Directions:
Preheat oven to 350 degrees. Melt butter and allow to slightly cool. Pour flour into a measuring cup, measure in baking powder, baking soda, spices, salt and stir until well combined. In a separate bowl beat eggs, add in applesauce, maple syrup and butter and stir. Then add in vegetable pulp and stir until all ingredients are well combined. Pour batter into lightly greased muffin pan or use paper baking cups. Bake 25 – 30 minutes depending on type of pan used, size of muffin cups and your oven. Check earlier to see how fast the muffins are cooking.
Tips:
You can also use ground almond meal instead of flour. I use a stoneware muffin pan, so muffins needs 30 minutes cooking time. Recipe can easily be doubled and small muffin pans work too.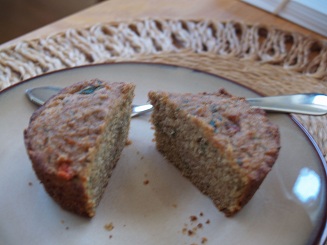 ---
Anytime Parfait – Serves 2 – 3
A healthy, delicious treat to be enjoyed anytime. Serve in whimsical or fancy glasses to match the occasion and add to the ambiance!
Ingredients:
2 ripe bananas, sliced
1 ripe avocado, chopped
2 -3 dates, pitted
2 tablespoons unsweetened carob powder or use cocoa powder
2 tablespoons macadamia or almond butter
1 cup nut milk, homemade or coconut milk
¼ teaspoon ground cinnamon
Optional Add Ins:
Chia seeds, flax seeds, extra slices of bananas, berries
Directions:
In blender place milk, nut butter, dates, carob or cocoa, cinnamon, and blend. Add banana and avocado and blend until well blended. Place some parfait mixture in glass, add a layer of bananas or berries, then another layer of parfait, and top with bananas or berries (optional), and enjoy!
Make your own nut milk:
1 cup cold water + ¼ cup nuts of your choice (macadamia nuts or walnut or almond). My favorite is macadamia because I love how they taste but also because when I'm in a hurry I can get away without soaking them due to their small amount of enzyme inhibitors. Other nuts best to soak overnight or 4 – 8 hours in enough water to cover them, then drain the water, rinse, and allow to dry for awhile. Put nuts in blender, blend, add water and blend until well mixed, foamy and white.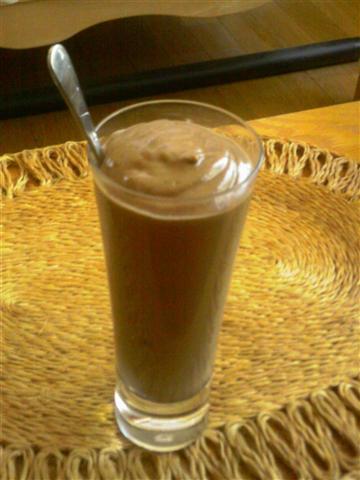 ---
Chocolate Spinach-Cream Cheese Brownies: Gluten Free
Featured in my presentation, "The Sneaky Chef Comes for Desert," Concord Co-op, 2/18/13
As chocolate is a vegetable, I decided to pair it with spinach another healthy vegetable. This is a fun way to eat your greens without anyone knowing. Easily enhances any brownie recipe while providing an added boost of vitamin A, C, folate, and iron.
Ingredients for Batter
2 cups + 2 tablespoons gluten-free all purpose baking flour (or make your own combo)
1 1/2 teaspoons baking soda
1/2 teaspoon sea salt
2/3 cup cocoa
4 eggs
1 cup brown sugar
1/2 cup oil + 2 tablespoons
1/2 cup butter, melted
1/2 mini chocolate chips (optional)
Brownie Directions
Preheat over to 350 degrees. In a large bowl measure flour, baking soda, salt, and cocoa. In another bowl beat eggs until well blended. Add oil, butter, and sugar to eggs and blend together. Stir flour mixture into liquid mixture and beat until well mixed. If batter is too stiff, add a touch more oil. Stir in chocolate chips. Evenly spread batter in a large glass or ceramic baking pan (8 1/2 x 11"). Drop cream cheese mixture by spoonfuls over brownie batter. Use a small spatula and cut spinach/cheese mixture through cake batter for a marbled effect. If you don't want a marble effect, stir spinach/cheese mixture into brownie batter until well blended and the green and brownie batter are well incorporated. So sneaky, no green hue or thoughts of what's green!
Bake for about 40 minutes or until brownies are done. To make sure brownies are cooked, insert a toothpick into brownie. When toothpick comes out clean, brownie is done.
Ingredients for Cream Cheese Filling
3 tablespoons butter, softened
1/4 organic sugar
2 cups fresh spinach, sliced thin
3 tablespoons broth from cooked spinach
4 ounces cream cheese
Filling Directions
Steam spinach in a little water until wilted. While spinach steams blend butter, cream cheese, and sugar together. Drain water from spinach and place in a blender, blending until pureed. Add spinach to cheese mixture and stir until well mixed. Tip: If using an 8 x 8" baking pan, cut recipe in half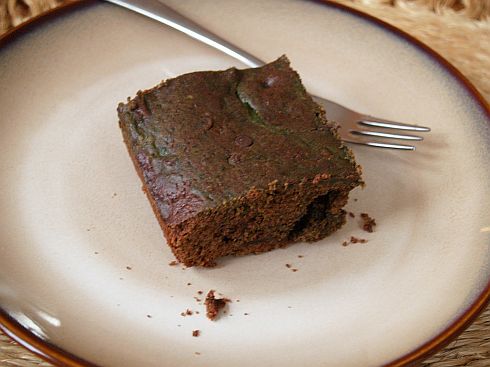 ---
Potato Vegetable Kugel - Serves 6
A great winter comfort food that can be eaten any time of day as a snack or side dish and is hearty enough to be a main dish. For a nice change, I replaced some of the potato with other root vegetables.
Ingredients:
3 eggs
2 cups potatoes, grated
1/2 cup carrots, grated
1/2 cup celery root, grated
1/3 - 1/2 cup matza meal, bread crumbs, or crushed cereal
1/2 teaspoon baking powder
2 garlic cloves, minced
3 - 4 tablespoons onion, minced
4 tablespoons butter, melted
salt and pepper to taste
Directions:
Drain liquid from potatoes. Beat eggs until well mixed. Add potatoes, carrots, celery root, onion, baking powder, salt, pepper, and butter and stir together all ingredients until well blended. Grease an 8" x 8" baking dish or a 1 1/2 quart casserole dish, evenly spread potato vegetable mixture into dish and bake in 350 degree oven for about one hour or until lightly brown and cooked.
---
Stuffed Portobello Mushrooms
One of those rare evenings I didn't measure anything and just used what was in the fridge. Another time I added in celery and zucchini. This definitely is a no fret recipe that is easy to create. So have fun using your imagination and what you have on hand to easily personalize with your own favorite ingredients.
Ingredients:
Portobello mushrooms
red pepper
onion
jalapeno pepper, a small piece
fresh parsley and basil
fresh garlic
pine nuts
feta cheese
extra virgin olive oil
salt and pepper
Optional add ins: celery and zucchini
Directions:
Quantities depend on how many mushrooms used. Wash mushrooms and remove stems. Chop herbs and garlic and set aside. Chop mushroom stems, onion, and peppers and saute in oil until desired tenderness. Stir garlic, pine nuts, herbs and feta cheese into vegetables and continue to cook until cheese softens. While vegetables are sauteeing, place a little oil in a cast iron skillet and cook mushrooms on each side until they are tender and turn a rich golden color. Divide filling mixture between mushrooms, cook another couple of minutes, serve, and enjoy this no fret dish.
---
Pepper Poppers - Yields 18
Like the song on CD #1, these peppers really sizzle and pop as they lightly blacken in the broiler. They are then stuffed with a zippy filling that blends well with the sweetness of the peppers. These make great little appetizers, snacks, or as a side dish with Mexican food. They blend so well with the music you cannot help but smile and bop while cooking and eating!
Ingredients:
1 10-ounce package of mini peppers
3 cups yellow yukon gold potatoes or potato of choice, peeled and chopped
3 garlic cloves, minced
1 tablespoon extra virgin olive oil
1 tablespoon butter
1/4 cup cheddar or cheese of choice, grated
1/3 cup of corn, frozen niblets or fresh if in season
1/2 cup of scallions, thinly sliced
3 shakes cayenne
1/4 teaspoon sea salt
1/4 teaspoon ground cumin
1/4 teaspoon chili powder or to taste
sprinkle of paprika
1 chili pepper, finely diced (optional)
Directions:
Boil potatoes and garlic until tender. While potatoes boil cut off tops of peppers, remove seeds, wash but do not dry, and brush all around outside of each pepper with oil and broil until peppers are slightly blackened on both sides. Allow to cool a bit. While peppers blacken and cool, mash potatoes with butter, stir in cheese and mix until well blended. Add corn, scallions, spices, and chili pepper. Stir until everything is well blended and adjust seasoning for personal taste. Using a small spoon, fill mini peppers with potato and vegetable mixture, mound a bit, and sprinkle lightly with paprika. Place in a shallow casserole and heat until warm.
Song: Pepper Poppers - /disc 1 - Song 2 - Mexican Style - Fast Tempo
This song is inspired by Mexican Mariachi music. I spiced it with percussion to make it sizzle and pop just like the appetizer does as it cooks.
---
---
Herbs and Greens Pesto
Ingredients:
1 cup arugula, fresh
1 cup basil, fresh
1 cup parsley, fresh
4 cloves garlic
¼ cup walnuts
¼ cup pine nuts
¼ cup extra virgin organic olive oil
½ cup Parmesan cheese or to personal preference
salt and pepper to taste
cayenne pepper to taste (optional)
Directions:
Place greens and herbs in a blender or food processor and process until minced. Add nuts and blend until ground. Mix in oil a little at a time, blend, and scrap sides to assure all is well blended. Add Parmesan cheese with a little water and blend to desired consistency. You may want to add more water depending on how thick or thin you like your pesto. Finish by seasoning with salt, pepper and cayenne and serve.
Suggestions: Nice served with grilled scallops, over pasta or use as a dip with raw vegetables.
---